Design Tips for Sunroom Construction In the Harrisburg, Lancaster, York, Chambersburg, Carlisle, Enola & Nearby Area
Pennsylvania Area Sunroom Design Tips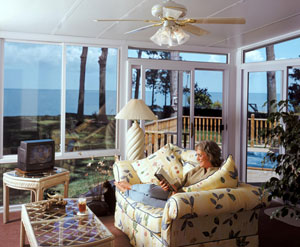 You will have to make some important choices once you decide to add a sun room to your home. Some will be easy. Others, however, are more involved. Here are several that fall in the latter group. When in doubt, get professional design help!
Types of Sunrooms
Custom-built sunrooms are conventionally framed, well-insulated, include HVAC ducts, and have solid (non-glazed) roof. They can be used all year long and would look like any other room addition if it were not for a higher ratio of glazed surfaces to solid surfaces. A typical custom-built sunroom, for example, might have two sets of patio or French doors, 6 to 10 windows, and a roof window or two. Pre-manufactured sunrooms range from mostly glazed, aluminum-framed green-house style units to substantial rooms that look custom built, with solid roofs, and glazed doors and windows. Nearly every sunroom has three exterior walls. Many have cathedral style ceilings as well. The idea is to let the light in as much as is feasible.
Contact us today for a free sunroom design quote in York, Harrisburg, Lancaster, Hershey, Carlisle, Chambersburg, Hanover, Elizabethtown, Wasynesboro, Enola, Columbia, Etters, Fayetteville, Mechanicsburg, Millersville, Mount Joy, Middletown and the surrounding Pennsylvania area.
Why do you want it?
A sunroom can pretty much be anything you want it to be. While it would present some privacy issues to make one a bedroom or bathroom, it's certainly been done. A kitchen? Probably not, but you could certainly include a bar with plumbing. Most sunrooms function well as entertainment rooms, family rooms, children's play spaces, plant rooms, or any combination thereof.
Where to put it
For many homes there's only one or two good places to add a sunroom. A typical location is off the back of the home, adjacent a kitchen or living room. In both cases, the sunroom addition adds useful living space. Another option is at the front of the house, again off a living room or kitchen. At the front of the house, however, you will have to deal with other questions. For example, is the sunroom design appropriate for the style of your home? Every house is different, so if you're unsure, consult an architect.
Another important factor is orientation: north, south, east, and west—assuming your house plan and lot allow you a choice. Envision living in the room. If you want to sip morning coffee and see the sun rising, east makes sense. If it were sipping wine in the evening, perhaps west would be best. North would give you light but not much direct sun, which might be perfect for a studio—but would be difficult to keep warm during cooler seasons. South is what everyone thinks of first, but see "Sun Control" (below) before you do it.
Keep in mind that wherever you put the sunroom, you will be changing the nature of your existing interior space. In many cases, the sunny sunroom will have a darkening effect on the room it is built against.
Foundation options
As with any addition, a successful sunroom begins with a good foundation. Whether it's a masonry slab that get's tied into the foundation of the main house, or piers and beams, it's critical to get it right. Sunroom foundations need to be stable, with no chance of settlement problems. Be sure that footings are dug to the soil depth required in your region by building codes. Your contractor and local building inspector can advise you. If soil conditions are suspect, remediate it before you begin.
Sunrooms can sometimes be built upon existing decks or patio slabs, but beware of this option. It doesn't make sense to invest thousands of dollars in a dream room if you're going to skimp on what holds it up. Have a structural engineer or competent contractor check the deck's or patio's load-bearing capacity before agreeing to use it as a foundation.
Sun control
Ironically, the biggest challenge for many sunrooms is to limit the sunlight. Too much solar energy can turn your sunroom into an inferno. Called the greenhouse effect, glass lets most light in (where much of it converts to heat) but doesn't let it back out as readily. Sunrooms with glass roofs present the biggest problems. To control the light energy, sunroom builders have devised all manner of shades, roof covers, and glazing tints. The best solution, however, is to install an insulated solid roof and to include a deep overhang if possible. Neither the roof nor the overhang will block the sun during the winter when it's most desirable—but they will keep the room a lot cooler in summer when the sun roams high in the sky.
Heating and cooling options
Ceiling fans are a common fixture in sunrooms and for good reason. In summer the rotation can be adjusted to move air downward, keeping occupants cooler because the air current evaporates moisture from your skin. In winter, it's best to reverse the rotation so the fan will push air up to the ceiling, down walls, and around the room. By redistributing warm are that would otherwise hug the ceiling, the room will feel warmer.
Contact us for a Free Estimate on and sunroom addition design consultation in Lancaster, Harrisburg, York, Carlisle, Chambersburg, Enola, Hershey, Elizabethtown, Wasynesboro, Hanover, Fayetteville, Etters, Columbia, Middletown, Mechanicsburg, Millersville, Mount Joy and the surrounding Pennsylvania area.
Looking for a price? Get a no cost, no obligation free estimate.