Benefits of Adding a Sunroom to Your Home in Harrisburg, Lancaster, York, Chambersburg, Carlisle, Hershey, PA
Adding Living Space In Pennsylvania Through A Sunroom Addition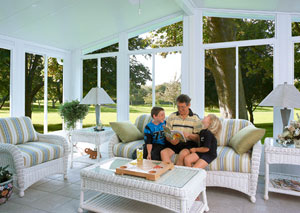 There are two cost-effective ways to add living space to a typical home: converting a basement and adding a sunroom. Although each has its merits, basements are typically best suited for private spaces, such as extra bedrooms, baths, exercise areas, and TV-game rooms.
Sunrooms, on the other hand, are normally more public in nature. They are best used for entertainment and to connect the house to backyard elements, such as decks, patios, outdoor kitchens, spas and pools. They also provide the perfect vantage point for enjoying your gardens without have to dodge raindrops or swat mosquitoes.
Sunroom types
There are three types of sunrooms: seasonal, 3-season, and all-season. Season porches are typically used for summer meals and entertaining. They are also great places for kids to play during inclement weather. Three-season sunrooms can be used most of the year but are typically unheated. You can, of course, use a supplemental electric heater on winter days or evenings when you'd like to use the space, such as when serving a holiday buffet. In addition, southerly-oriented seasonal and three-season porches warm up nicely on sunny winter days. Many sunroom owners open the door to the main house on such days to allow the warm air to circulate to inner rooms. A small fan may be used to assist circulation.
Glazing choices
Your glazing choices are largely determined by which type of sunroom you're planning. For a warm-weather only sunroom, you may opt for 1/8-in. clear tempered glass or, if overheating is a concern, 1/8-in. tinted tempered glass. Tinted glass, such as PPG's Solexia, reduces the transmission of heat energy to the sunroom. Because it also reduces fading due to UV light, this green-tinted glass is a wise choice if you plan to decorate your sunroom with upholstered furniture, drapes, carpeting or area rugs. Solexia glass subdues interior brightness without darkening the light. In fact, its visible light transmittance is 83 percent—higher than other types of tinted glass.
For all-season sunrooms low-E glazing, such as Cardinal IG's LoE3 [set as LoE cubed] is the best choice. Insulated glass will reduce the loss of both conductive and radiant heat in winter. During warm seasons, it will keep much of the sun's heat out of the sunroom, helping you stay cool. In addition, low-E glass reduces damage from UV rays.
Contact us for a Free Estimate on adding addition living space to your home through a sunroom addition in Harrisburg, Lancaster, York, Chambersburg, Carlisle, Hershey, Enola, Hanover, Elizabethtown, Wasynesboro, Columbia, Etters, Fayetteville, Mechanicsburg, Millersville, Mount Joy, Middletown and the surrounding Pennsylvania area.
Looking for a price? Get a no cost, no obligation free estimate.