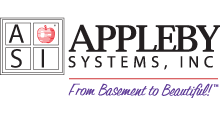 York, PA - Appleby Systems, Inc. is not only maintaining its position within the top100 of Qualified Remodeler's Top 500 Remodeler's List, but Appleby has improved to number 63 since last year, which brings them to the top 12 percent!

Just last year Appleby ranked on the Top 500 Remodeler's List as number 76, but that just wasn't going to cut it for this basement solutions company.

With more than 30 years committed to quality service and product innovation, Appleby is the certified Total Basement Finishing contractor in PA and MD.

The total basement finishing system includes: insulation; waterproof flooring; no-sag ceiling tiling; electrical work and lighting; trim, molding, baseboards; windows, window wells, egress windows; dehumidifiers and pumps; as well as comfortable financing options.

Appleby also proudly contributes to its local communities through participating in charitable events including: Easter Seals, Toys for Tots, United Cerebral Palsy, Special Olympics Pennsylvania, Inc., and Neighbors Helping Neighbors.

If you're looking for basement finishing in MD or PA, be sure to contact Appleby Systems, Inc. They're certified and experienced to help you with your entire list of basement finishing needs. Contact them today for your free basement finishing estimate.

They service Greater Harrisburg and Allentown in PA and also service the Greater York, Reading, Frederick, and Cumberland areas in MD.